I also (according to my bestest friend) have A.D.D. (Attention Deficit Disorder) which means I have a hard time concentrating on the moment -- unless it is constantly changing. So I needed an exercise regiment that would challenge me both mentally and physically.
I talked with my doctor and he suggested mountain biking. He is a sick man who wants to torture me into ceasing to be a clydesdale. In addition, it so happens that I work for a company that supports things like Mountain Biking. Hell, we are even allowed to park our bikes inside the office and discuss, the terrors of extreme downhilling.
My son, Steff, is also a Mountain Biking enthusiast, so the stage was set for me to enter the subculture of single-tracking where only headcases dare go.
So, on March 24, 1999, I entered the fray, and had to make the first big decision:
Ok, so I had decided that I would try this thing out. The first decision was chosing the bike. I first, decided to make an educated decision and consult people who knew biking inside and out. That meant a talk with my son Steffen, who rides religously and has (to the best of my knowledge) always done his research when it comes to activities in his life.
He first advised me that weight is the enemy, and to avoid like the plague, any words or phrases like "beginner" or "just starting out". "Get a bike, not a toy" he said.
My son rides a Raliegh M80, 16-inch with a fully extended Race Face XY-O Seat Post which gives him the luxary of a small bike with the leg room of a drop-down tree climber. But as he said, "Been riding since you tought me at 7... that's not for you."
At this point let me say, I have on occasion seen Steff ride. It is (to say the least) a frightening experience to watch, yet exhillerating when he is done. There are a set of cliffs that I used to climb as a kid on Munjoy Hill in Portland, Maine (below the Eastern Prom). Along those cliffs is a single track foot trail that I have watched Steff downhill on his bike at speeds that scared me to death to watch him do. I remember thinking, "If he survives this I will kill him for attempting it!"
I trust my son's experience and ability. It scares me, but I trust him.
Steff, advised me that Raleigh made a good hardtail Mountain Bike and that I would need a hardtail, "Pain keeps you thinking". So I had decided on a Raleigh. The next step was finding a bike shop with what Steff said had "cyclists not salesmen".
At this point, I abandoned my best source of advice and went looking for a guy I had known a few years earlier and that owed me a favor. He owns a bike shop here in Hendersonville. What I found (armed with my son's insight) was a bike, not a toy. The difference is bikes are addictive, toys are sold by Wal-Mart and are soon found collecting dust in a garage.
I chose the Raliegh M60 with a few custom changes as advised to me by both Steff and the bike shop. Below is a picture of the bike with all the specifications.
M60 Specifications
Size: 22.0"
Colors: Silver Blue
Frame: 7005 Oversize Aluminum,
Replaceable Derailleur Hanger,
Down Tube Gusset
Fork:RST-260, Suspension Fork
Headset: 1-1/8" Tange Seiki RBC-2 Aheadset
Crankset: Shimano Alivio 42/32/22
Bottom Bracket: Shimano Cartridge LP-27
Front Derailleur: Shimano Alivio
Rear Derailleur: Shimano STX-RC
Shift levers: SRAM GripShift Centera
Cog Set: Shimano HG-50i, 11-30, 8-Speed Cassette
Chain: IG-31
Hubset: Shimano Alivio Front & Rear
Spokes: 14-Gauge Stainless
Rims: Vuelta VXC 2.4 Double-Wall, Silver, 32-Hole
Tires: 26 x 2.1 Kenda Kinetics Directional
Front & Rear Brakes: Tektro 824A Alloy Linear Pull
Brake Levers: Tektro 379A Alloy 3-Finger with Reach Adjuster
Pedals: Low-Profile Alloy/Resin,
Binding Compatible w/Clips & Straps
Handlebar: Alloy Silver
Bar Ends: Alloy 25.4mm Ski-Bend, Silver
Grips: Palm Pillow Duo-Compound Comfort Gel
Stem Ahead-Style: TIG-Welded Alloy 20° Rise, Silver
Seatpost: Alloy, Micro Adjust
Saddle: Selle Stratos, Hyper-Expert Duo-Compound

Additional Components & Special Add-Ons:
Top Tube Cable Routing,
Rack & Fender Mounts,
2 Water-Bottle Mounts,
Clear Coat,
CatEye Reflector Set,
Owner's Manual
Geometry
Size: 22"/55.9cm
Head Angle: 71.5
Seat Angle: 72
Effective TT:24.3"/61.6cm
Chainstay:16.75"/42.6cm
Fork: 54"/3.9cm
Wheelbase: 42.4"/107.6cm
Standover:32.8"/83.9cm
The First Day I bought the bike. I also bought what I was told were "the necessities". First, a brain bucket (that's a helmet). I chose the "Bell, Vita Pro". Nothing fancy but durable as any helmet going. Helmets are as Martha Stewart would say "a good thing". Head injuries, will leave you with your life totally changed.
Next came a good pair of padded bike shorts. I chose the Vittoria Nylon/Lycra blacks (which may have been a bad choice). They are road biking pants and I have a mountain bike. Trust me after a 2-mile mild run, your ass will begin to tell you the difference between mountain bike pants and road bike pants. I am fascinated by a company from Canada called "Fox and Shift" that specializes in mountain bike clothing, and will get back to you after I sample their wears.
The jersey I chose was probably the best choice I made independently. I chose a Sugoi 3 quarter zipper Lycra. They say I may want to have a total cotton by June. However the Sugoi is perfect for March mornings in the Carolinas.
Like any mountain biker, I went looking for a decent back pack. Since I am greedy with my bike time and ride to work, I needed something to haul a white shirt, tie and dress trousers in. I chose the Concord E Course pack, that has a liner to protect the white shirt and tie.
On the bike, I made a major change. I moved to a Kenda Komfort tire keeping the old Kinitic tire for when I am out single tracking. (I have a goal to be a member of the 8,000 club, a guy who rides his bike 8,000 miles the first year). It was a very good decision since I have noticed that the Komfort tire is exactly that: comfort in all terrain. It is important to note that if you have a mountain bike, you absolutely need tires that reflect the terrain you are riding in (which means a set of all terrain for peddling around town, and a set of extreme kinitics for single tracking -- like tires and snow tires). That is why serious bikers go for the quick release interchangeable tires as opposed to the bolted, like the boring roadies.
OK, so armed with all of my bike clothes and my komfort tires, I was ready for my first ride. NOT! It turned out to be a 26 mile run laid out by a rollercoaster rider. (They say I will appreciate the down hilling of this course when I do my first extreme uphill run). It hurt and I will honestly admit that I portaged the bike up 40% of the hills. Yet it was exhillerating. It burned the hell out of my lungs, which I have since learned have a 5 yard mass (like the skin has a 1 yard mass) and I need to stop abusing them as I do.
I finished the run with the pack ( hey we are citizen racers, not pros). It was like a drug. The wind in my ears, the strain to make it to the top and the feel of downhill. I wondered what took me so long to get here. But here I was... with an iron horse underneath me that I had to feed, with sweat. I was home, hurting and thrilled at the same time.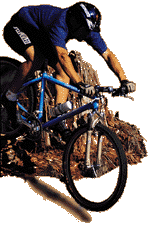 Visit more of my Mountain Biking pages ...
---


Had enough of Mountain Biking ???


You are visitor number




to this page since November 1999.